FTB008 Fiber Optic Terminal box

This plastic terminal box is indoor use only, mainly for distribution vertical cable from patch cord to end customer. It is placed on the wall or bottom of the floor cabinet niche by screws.
Features
- Mix fiber split,fusion, distribution and storage in a box.
- 2inputs can use multi-fiber cable or uncut cable, 8outputs for FTTH, convenient fast to operate.
- The fiber bending radius minimum is 20mm.
- The lid of the box have round edges and closed by a screw, opening of the lid will not affect the movement of the other parts of the box.
- Unique design of separate covers for the adapter and cable entry/exit ports to makes it more safe, nice and humanity, both cover is removable.
- All the materials is non toxic and dermatologically safe, can last long for more than 20years.
- Plastic material is flame retardant, metal parts is steel stainless AISI-303 and resistant to the corrosion in normal temperature, can be test ok in different facilities.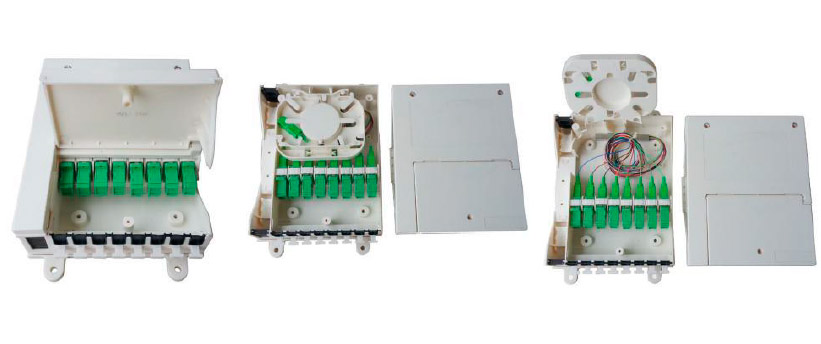 Specification

This box can host a 1x2, 1x4, 1x8 SC/APC Splitter.
(Trays and accesories for installation included)
(ADAPTERS, PIGTAILS AND SPLITTER NOT INCLUDED)
Technical specifications:
Model
Input/output ports
Storage capacity (single fusion)
Splice trays
PLC Splitter
Adapters
Dimensions LxWxH (mm)
FO-CTO8S

12 ports

4 ports: Each port for 1 cable with a maximun of 12 mm.

8 ports: Each port for 1 cable with a maximun of 4 mm.

2F (1X8 splices)
1 tray (2 splices each tray)
It can host 1x2, 1x4 or 1x8 splitter

It can host 8 SC Adapters

160x127x45